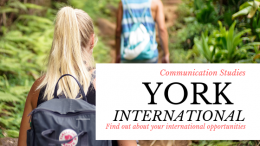 International Opportunities are available to all Communication Studies students. You do not need to be doing an iBA to be considered.Considering an iBA? Check out the Academic Calendar.
Choose between the 3 different International opportunities offered by York University.
- International Exchange
- Global Internships
- Summer Programs
---
What is an iBA?
An iBA is an International Bachelor of Honours, this degree gives students the opportunity to gain international experience and skills while completing their undergraduate degree. Cross-cultural knowledge is an important asset in today's global workplace and the iBA program is a great opportunity to enhance your understanding of different cultures and learn other languages. Complete a term abroad, earn credits while on exchange at another university, all while paying York tuition!
Here are the differences between a BA and an iBA.
Required Course: AP/ANTH 2300 3.00 Intercultural Training Skills must be completed before the International Exchange/Experience requirement of the degree. *Note: This course is considered to be outside the major (even for ANTH students).
Internationally-oriented credits: at least 9 credits of internationally-oriented courses to be completed from the list of pre-approved courses; these courses can be additional courses in your major.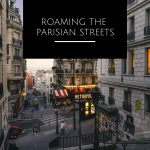 Credits outside the major: at least 18 credits (*Note: for the Honours iBA, courses taken outside the major to satisfy the language study requirement and/or the internationally-oriented courses requirement can also be used to satisfy the outside the major requirement. Students who are completing a major/minor are deemed to have fulfilled this requirement.)
York International offers many different opportunities with partnerships all over the world. Find out where you could go on exchange!
Benefits of going on Exchange as a Communication Studies student?
"The exchange program from York International enriches my experiences towards Japanese culture. I studied some Japanese culture courses including manga and animation, visual culture as well as advertising with local Japanese students. Their ideas inspired my
thought when doing the assignment. My pre-sumption towards the Japanese in the domain of manga and animation was different after interviewing with them regarding the assignments. More outstanding ideas was elaborate and explore during the exchange on advertising and communication aspects. It was a very precious period that I have ever had in my school life. If I had a chance to go again, I definitely will go again without any regret." (Denise Sin Ying Cheung, 2018)
Singapore: the Garden Salad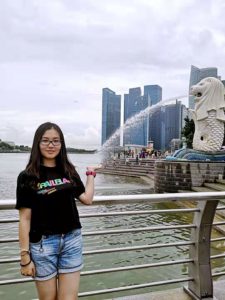 In the year of 2018, I studied at Nanyang Technological University in Singapore via York International's summer abroad program. And I have also been selected as an outgoing exchange student to the National University of Singapore in January 2020. The long studying duration provided me with sufficient time and attractive student discount to visit most of the famous spots, such as the Merlion Park in Sentosa, the infinity pool at the top of the Marina Bay Sands hotel, and the National Museum aside the aged Fort Canning Park. What is miraculous about Singapore is that within such a small land area, each culture and religion can still keep their distinctiveness and strength, yet maintaining a good relationship with others. I would never forget the experience of encountering diverse cultures and faiths within only one day. I was guided by many local students to the area called Little India to learn how to make the Roti prata in the morning. In the afternoon, they introduced me to Chinatown to visit the Buddhist temple called Sri Dalada Maligawa and Singapore's oldest Hindu temple called Sri Mariamman Temple. And in the evening, we all took a walk along the Clarke Quay, intoxicated with nocturne of this modern city.
The learning experience in Singapore is also distinctive. NTU, as a top-ranked university, offered me the excellent opportunity to learn from accomplished scholars about Singapore's history and its sustainability of energy development. NTU is often listed as one of the most beautiful campuses in the world. Since the school is vast and surrounded by small hills, it runs several free shuttle buses to carry students around different buildings. It was always a good time in the bus chatting with my classmates from various cultural and academic backgrounds, covering plenty of topics about what their previous school life was like, what kind of food they found tasty in the campus, and sometimes together making a little complaint about the heavy homework or the upcoming exams.
Singapore represents a perfect combination of antiquity and modernity. Even though it is only an island with limited land, there is always something new to find and explore. I cannot wait to enjoy another 5-month of academic stimulation and multiculturalism enriching.
---
Funding Opportunities
Studying abroad can be expensive, even though students are paying the same amount of tuition to the university, accommodations, flights and, living expenses can pile up. York University offers many bursaries and scholarships for students.
York International Mobility Award (YIMA)
York International Internship Award (YIIA)
International Study Abroad Award for LA&PS
Other York University Awards/Funding for International Experiences
Even though you are studying at another university, you can still apply for OSAP.
---
One Semester Exchange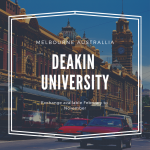 Students do not need to be completing an iBA to go on exchange. All third year Communication Studies classes are 3-credits. Third year is the perfect time to go abroad and experience something different while earning credits. The credits you take will be applied to your degree as electives. Check out the full list of schools!
Check out: Deakin University in Melbourne Australia, Universidad de Costa Rica, Tel Aviv University and, The University of Geneva! More available on the York Website.

---
Summer Internships
The 2020 Internships have been released!
York also offers international internships over the summer. These internships last 3 months and require no previous experience.
---
International Summer School
Study abroad in 2020 in a YorkU Summer Abroad course, taught by a YorkU professor for YorkU credit!

YorkU Abroad courses are offered in the summer with a combined format of two to four weeks of class instruction at the York campus, and up to four weeks abroad with your classmates and York professor in another country!
Some of the courses offered for summer 2020 were held in Greece, South Korea and, Italy!
*The 2020 study abroad program has been suspended due to COVID-19. 
---
Summer Adventures!
Tired of summer in the city? Go on an adventure. Short-term academic exchanges are available. Take summer school in a city in Europe or Asia!
---
Field Placements
We are also offering the chance to get real work experience while earning credits! The department of Communication Studies is offering this course to any student interested. New and current students welcome. This is a great opportunity for students to get real work experience. Showing students the numerous paths you can take with a Communication Degree after graduation.
Click on the "Get Real Work Experience" picture to read more about the placement organizations who worked as our partners this past academic year. You can view the exciting roles the students had as well as their responsibilities.