Impression is a student-run undergraduate academic journal produced by the Communication Studies department at York University. Published (annually) under the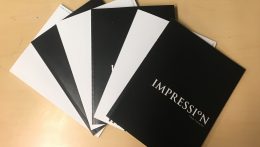 mentorship of Professor Anne MacLennan, the journal showcases engaging, thought-provoking opinion pieces, essays, book reviews, photographs, short stories and poems that are reflective of both the subject of Communication Studies and of the world around us, each practical, yet personal: the perfect impression.
Submissions: All work must be original, and any references to another work must be cited in APA style. Furthermore, while submitting work completed for courses is encouraged, your arguments should be original and unique, and should not simply restate the class material. Submissions must not have been published elsewhere previously, and submission must not violate any existing contracts of licenses.
Volume I: Table of Contents
Critical Review
The Representation of Homosexuality Through Partners
Eating Up Ads
More "Real" Than The Southern Neighbour
The Commodification Of Romance
The Link Between Belief and The Imaginary in Advertising
The Choice Is All Yours
Lessons From Cinderella
Shopping Through Static
Electric Tribal (Wo)Man
From The Bottom-Up
Rethinking The Panopticon
New Age Technology And The Participatory Component of Music-Making
Mapping Labour In The Creative Industries
Bridging The Digital Divide In Rural Thailand
Volume II
Lesbianism On Television
Intersectionality, Sexuality, And The Exploration of Racialized Gender Identifies in HBO's True Blood
Collateral Damage: How Somali-Canadians Suffer from News Coverage Of The "Crack Scandal"
The Danger of Red Bull: Keeping Health Hazards On The Market For Youth
Electronic Cigarettes: An Urgent Need For Regulation
Dreams of Today
Facebook As a Public Sphere
Kodak's Mass Market
Comparative Analysis of Trends & Social Values Contained Within The Ads in America and Russian Cosmopolitan
Witches of East-End The Modern Witch: Liberated or Restricted Once More
Domo Absurdo Mr.Roboto: The Existential Merit of Transformers 2
The Art of NRT's
Asking Questions: A Self-Reflective Inquiry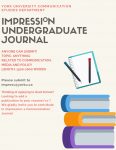 The Department of Communication studies, in partnership with the CSSA is doing a call for submissions for the third Volume of Impression. Papers on Communication, policy and media are being accepted for our undergraduate student-run journal. Papers with original content and visuals are encouraged. The papers should be between 1500-6000 words. This is a great way for undergraduate students to get a publication, which looks impressive on a c.v if you're thinking of applying to grad schools. Please email your submissions to impress@yorku.ca
Please submit now. There will be plenty of time for the editors to help the authors edit their work.