Our program is tailored to students who want to work in media and communications, as well as to students who appreciate that comprehending and participating in contemporary society requires an in-depth understanding of the media and communication landscape. In Communication Studies you will work with leading faculty in the field. Here you will gain real-world knowledge as well as the critical skills needed to engage with the emerging media and communication landscape, both at the professional level and as citizens.
Your Degree, Your Choices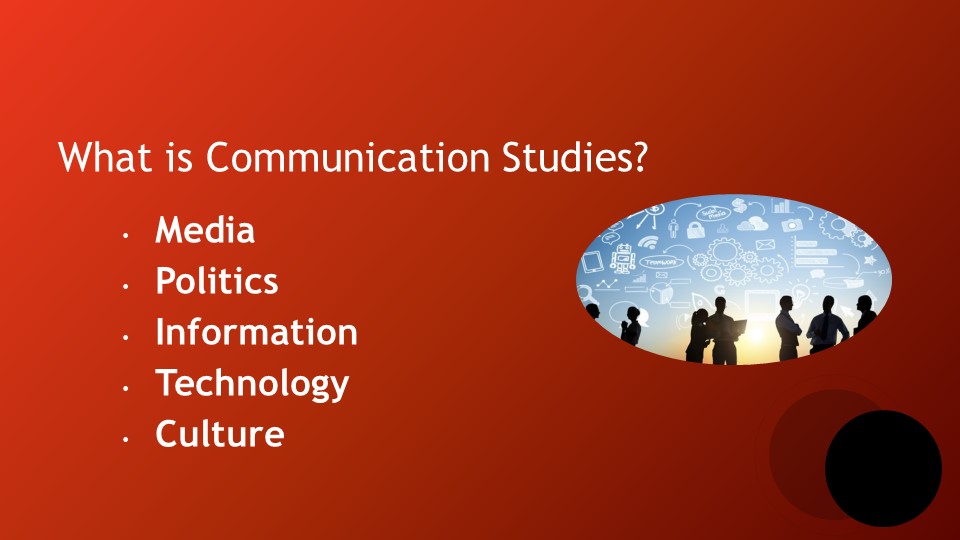 As a Communication Studies student, you will gain a strong foundation in the field, and will also be able to customize your program to your needs. The foundation is provided by the required courses at the first and second year levels that all students will take. These courses will introduce you to key perspectives in the field of Communication Studies, and provide rigorous training in research, writing, and critical thinking. You will also be able to choose from a wide range of other courses that will enable you to develop your knowledge and skills, and engage with the issues that most interest you. In addition, you will take courses outside the department, giving you the opportunity to experience York's wide range of programs in Liberal Arts & Professional Studies, the School of the Arts, Media, Performance & Design, and elsewhere. You can even do a joint major with another department, or a major in Communication Studies with a minor in another field.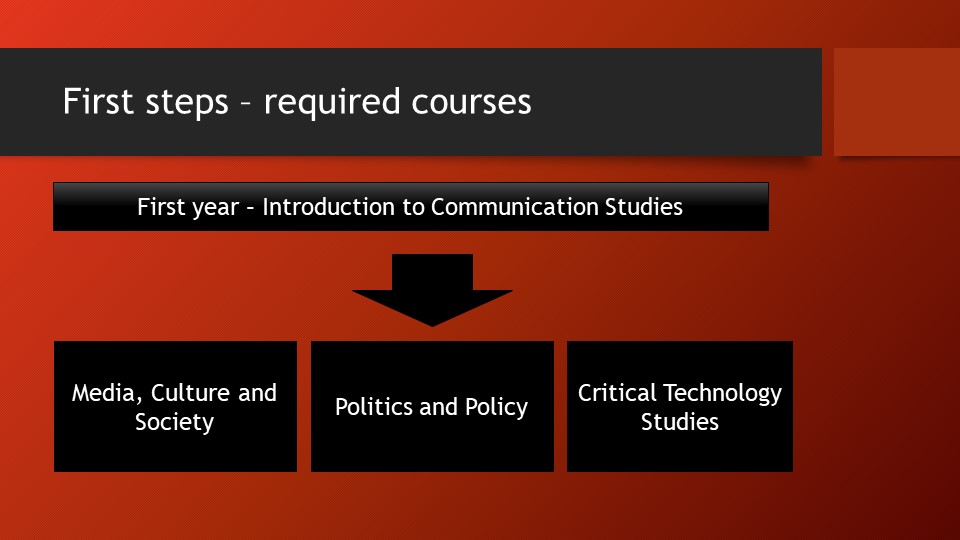 The three streams that make up Communication Studies are Media, Culture and Society, Politics and Policy, and Critical Technology Studies. You can always take courses across the streams, but these help you to organize your program of study, and to orient yourself to future careers, some of which are suggested here.
Media, Culture and Society
Media, whether more traditional forms like print or broadcast media or new forms of digital media, provide the context within and through which our cultures develop. These cultures are complex and often contested, with courses in this stream giving students the tools to engage in these debates, and to translate them into real-world contexts. The growing importance of the cultural sector also mean that this field offers many career opportunities. Graduating students have gone on to work in the communication and cultural industries, and in non-profit or public media production.
Graduating students will be prepared for careers as: journalist, writer, or editor; media researcher (conducting research on television content, television ratings or audience research, for example); media developer (creating specialty content, ESL or ethnic programming); creative work in arts and entertainment (copyrighter, producer, director, sales representative); intercultural communications advisor; historians of media and cultural history; and teacher/media educator (developing media literacy in high schools for example).
Politics and Policy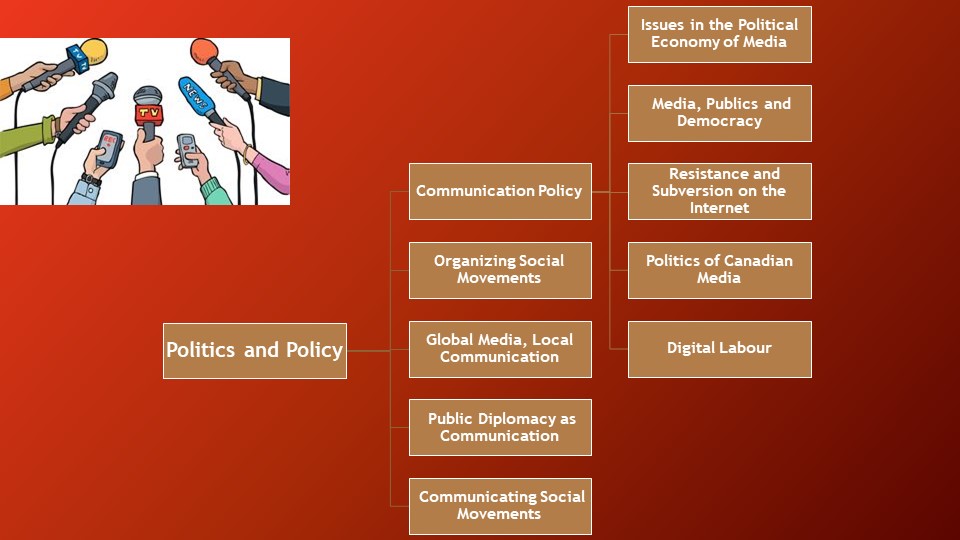 This stream is geared towards students interested in the business of media and the relationships between the economic and political dimensions of communication and culture. You will gain the knowledge and skills necessary to identify and participate in media production and the various decision- and policy-making processes that shape our media landscape.
Graduating students will be prepared for careers as: media analyst (researches particular issues or news coverage); media relations (works with media in producing and managing coverage); political communication (speech writer, media liaison, or campaign director); public affairs coordinator; professional lobbyist; public opinion researcher; policy developer or analyst (interpreting and developing corporate and public policies on culture and communication); communications law (intellectual property, copyright law, communication rights); and communication specialist (managing communication with/to the public through a range of media, including public relations, government communications, non-profit and activist organizations).
Critical Technology Studies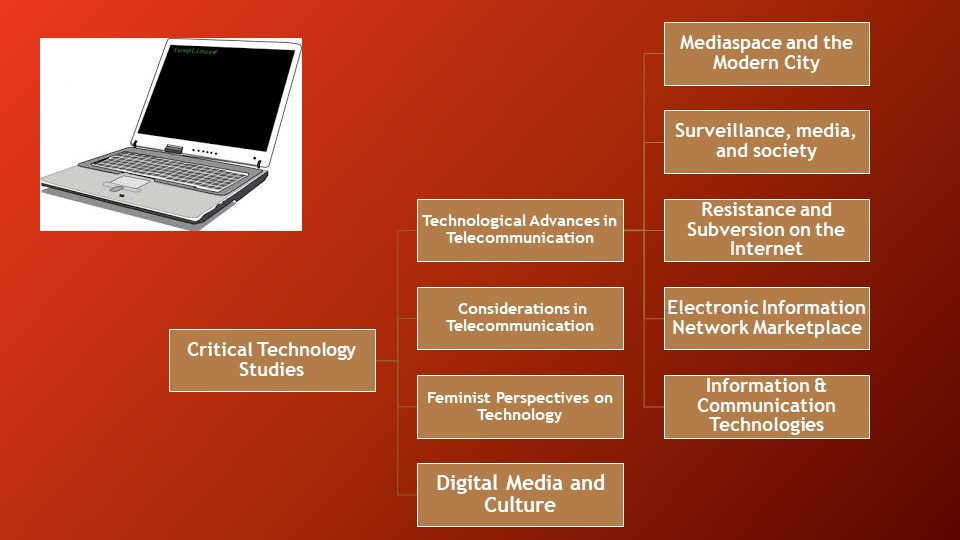 Technology increasingly permeates all spheres of our lives, with digital technologies in particular reshaping how we live, work, and play. Courses in this stream provide you with the resources to think critically about the transformative impacts of technology, and also to examine how those technologies are embedded in wider social contexts.
Graduating students will be prepared for careers as: information architect; policymaker (for government or media institutions); media researcher; data analyst; social media innovator; journalist; telecommunications specialist; teaching new media; systems analyst; technology coordinator; website or software designer; creative work in new media; and technical assistants.