We are excited to announce several new courses!
COMN 1401, 6 Credits, FW 19/20: Fake News, Fact-Finding & the Future of Journalism 

Taught by Professor Jonathan Obar

What is fake news? How does it spread? How do we distinguish fact from fake? Are social media to blame?
COMN 1410, 6 Credits, FW 19/20: Sport Media

Taught by Professor Estee Fresco

This course explores the relationship between sport cultures and media practices. Key topics include media representations of athletes; fandom; the business of sport media; sport and social justice; and the development of sport media over time. Students taking this course will study a wide range of sports (e.g. football, soccer, dance and gymnastics) and media forms (e.g. newspaper, television, radio and twitter).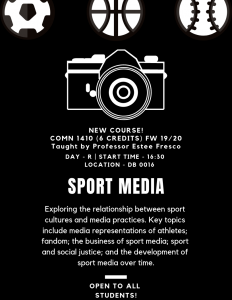 COMN 3781, 3 Credits, Fall '19: Media and Environment

Taught by Professor Shirley Roburn

This course examines various currents of thought within communication studies that have attempted to take 'the environment' into account. It explores the field of environmental communication, as well as how broader frames such as eco-feminism, environmental justice, and indigenous thought have influenced public sphere debates concerning the stewardship of land, water, air, and living creatures.
More News Coming!