Placement Organization:
VX3 Exchange/Vibe105 FM
Position Title:
Broadcast Reporter, Online Writer
Number of Possible Placements Available:
8
Working Site's Location:
​4700 Keele Street, Suite 413 - The Student Centre
Company Bio:


VX3 is a registered charitable agency focused on developing sustainable and professionally guided media/arts initiatives through education and vocational guidance. Our programs and services contribute to enhancing trade skills and valuable life experiences among identified community groups through civic-led programming and co-curricular exchange.
Home to Vibe105 FM, Toronto's Best Urban Music Radio Station. We train and guide reporters who contribute to the station's broadcast and online content.
Responsibilities:

(Broadcast Reporter)
Create/produce broadcast quality segments for Vibe105 FM
Attend all training sessions.
Research for news content.
Write scripts.
Record voice overs.
Edit and produce segments.
Transcribe interviews/segments for online presentation.
(Online Writer)
Write a variety of articles for Vibe105 FM's website vibe105to.com (news, music & lifestyle)
Attend all training sessions.
Research for content.
Format and edit articles in accordance to Vibe website's guidelines.
Create or find appropriate images and support material for digital story telling
Transcribe interviews/segments for online publication.
Qualifications:

Excellent time management skills (meeting deadlines is a must).
Expert oral and written communication skills; innate conversationalist.
Advanced research skills.
Able to work well in high-pressure environment.
Willingness to receive and offer constructive feedback.
Detail oriented.
Able to meet strict deadlines.
Interest in current affairs (local and international) or music culture.
Passionate about radio.
***Experience with Adobe Audition or experience with audio editing software is an asset.
Additional Assets:

Ideal candidates not only have an interest in media (radio broadcasting & online writing), but must be passionate about social issues, culture, music, current affairs, and helping the community.
Student Experience:

Daniella English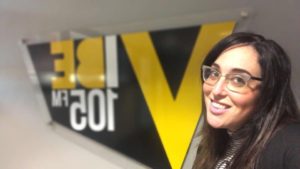 What kind of work did you do? My primary responsibility right now is to create VibeTalks on the topics of Black History Month and International Women's Day. VibeTalks are 8-12 minute segments devoted to people who are considered experts in their field. I develop the idea/title for the interview, source the interviewee, write the questions and do the research necessary for the interview, conduct the interview in studio, edit the interview and format it for broadcasting.
What was your overall experience?
This experience has been incredible so far. I have met inspiring people, I have had the opportunity to sit and talk with them and learn from them. And I have had the privilege of being able to share their stories and knowledge.
What skill sets did you develop throughout the process?
I have developed technical skills in regards to studio operations and editing content. I have been developing the research skills necessary to conduct an interesting interview. I have been working on my on air voice and range.
How has this prepared you for a career?
It has shown me what I want to do with my future and simultaneously what I don't want to do. I have long since wanted to have my own radio show/podcast. This course has reinforced that desire within me and has given me the confidence to pursue the career I want and now, feel prepare for.
If you had to recommend this course to someone, what would you say?
I would say that it is a lot of work so only apply if you think you can balance it along with other courses. I do believe this course should be a nine credit course given how much work is involved in both the class and internship. That said, I would tell someone that this is an excellent way to try out the job market from the safety and comfort of school. Being able to dip your toe in the workforce with the resources and support of the school and professor is an invaluable combination.