Placement Organization:
Rooks to Cooks
Position Title:
Communications Assistant
Number of Possible Placements Available:
3
Working Site's Location:
40 Kodiak Cres., Unit 3, Toronto
Company Bio:


Rooks to Cooks is a small business. It was founded in 2017 by Chef Shai Mandel, as an extension of her services offered since 2015. The programs offered by Rooks to Cooks began with in-home private lessons and have now expanded to include children's cooking day camps in the summer, after school programs and workshops, birthday parties, and in-home private classes. The programs and services always emphasize themes of healthy eating and teach our students how to live a fulfilling healthy life.
Mission: We will empower our students to become more independent by building self-confidence and supporting self-expression through culinary education.
Responsibilities:

We require assistance with our communications strategy, this may include the following:
- Identify potential partnership opportunities (e.g., schools);
- Assist with planning and writing content / communication media (webpages, brochures, social media, blogs);
- Assist with development of marketing campaigns;
Qualifications:

Ability to conduct research and effectively present findings to team;
Ability to work both independently and as part of a team;
Proficiency in oral and written communication;
Ability to meet deadlines in a timely manner;
Ability to strategize and look for different approaches to communication and media.
Additional Assets:

A passion for cooking would be considered an asset.
Student Experience:

Nicole Grant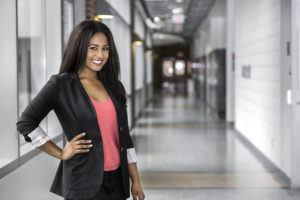 What kind of work did you do? I helped to develop mainstream media approaches to help get the word out about the organization. As well, I assisted with creating a new market strategy for Rooks to Cook's Whitby summer camp and to gain awareness about the organization in the Durham Region. I worked predominately from home and was successful in securing a contest campaign with 680 news.
What was your overall experience? When I first joined Rooks to Cooks I thought I would be working on their social media platforms. Analyzing how we could improve upon operations was something I was looking forward to doing however, I ended up doing something equally enjoyable. I researched and reached out to key influencers around the GTA and Durham Region and garnered relationships with local and national media organizations. My boss, Howard, was tremendously influential in furthering my development within the company. He often gave me podcasts to listen to and ebooks to read. He nurtured my growth by touching base with me a few times per week and always listened to my suggestions and feedback. I had a wonderful experience working at Rooks to Cooks and would highly recommend this organization to people who would like to take this course.
What skill sets did you develop throughout the process? Rooks to Cooks challenged me to think outside the box and to implement communication soft skills such as crafting emails and modifying press releases to garner the attention of audiences across the GTA and Durham Region. As well, I developed better researching skills and communicated regularly with influencers, bloggers and media organizations.
How has this prepared you for a career? The time I spent at Rooks to Cooks was very enjoyable. I learned how to negotiate, how to delve further into research surrounding social media marketing and learned how to more effectively communicate within a team setting. I believe this experience was a worthwhile one and necessary for my future career. This course made me understand what it takes to be working in the communications and marketing field.
If you had to recommend this course to someone, what would you say? I would say it is going to be a lot of work but as long as you can multi-task and are willing to get things done this course is for you! It will help you to decide what jobs are best suited for you once you complete your undergraduate degree and prepare you for the real world. Professor Monti is also very approachable and is open to feedback and gives amazing advise!