Placement Organization:
Ondas FM 2019
Position Title:
Radio Editor, Communications Assistant, Social Media Coordinator Assistant, Personal Relations Manager
Number of Possible Placements Available:
4
Working Site's Location:
4950 Yonge St. North York
Company Bio:


Ondas FM is a Commercial Radio Station that has airwaves on CHIN RADIO (91.9 adn 100.7) and CIRV (88.9). Our goal is to inform the GTA of everything that is happening in the Latin Community. From music, fashion, entertainment and most importantly News.
Responsibilities:

Radio Editor
Edit Commercials, Radio Imaging, Audio Collecting , Etc.
Manage all our programs.
Creating new programs and concept building on our shows.
Communications Assistant
Create content for all our ads.
Complete our daily socan sheets.
Make sure all our commercials are fresh and up to date.
Find New potential advertisers and/or alliances with media agencies.
Social Media Coordinator
Social Media Research and Development.
Post relevant assets on all social media platforms.
Manage and reply to all our media platforms.
Personal Relations Manager
General Communication with Membership and Public.
Find knew media outlets for the upcoming year.
Find media outlets we can cover.
Qualifications:

Ability to learn new online applications (such as email marketing or
content management systems);
Ability to research and summarize research findings clearly;
Ability to work both independently and as part of a team;
Spanish speaking students is a major plus, however it isn't a prerequisite.
Proficient in both their oral and written communication;
Punctual and professional in their approach to the work assigned;
Willing to experiment with new approaches to communication and media.
Additional Assets:

Comfortable working with database software. (Word, Power Point and Excel);
Ability to read/write or speak in a second language (Spanish);
A passion for (success and media relations): public service, community development, team building, MUSIC, etc.
Student Experience:

James Fragakis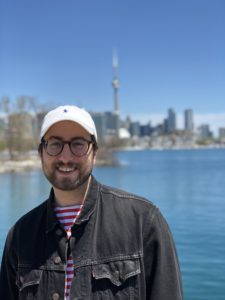 What kind of work did you do? I was in charge of creating new ways to engage with the perspective audience of the station. In my role I participated in the 2019 elections, creating videos and fact checked for the hosts on our live segments before information was sent out. My biggest accomplishment while working at Ondas FM was to get them media credentials for both the Toronto Maples Leafs and Toronto Raptors, which lead to a dedicated sports segment on their shows.
What was your overall experience? My experience was great, the people I worked with were extremely helpful and kind and were accepting with my ideas and plans for what to do for future projects.
What skill sets did you develop throughout the process? I was able to learn more skills in research, search engine optimization, as well as business skills that relate to a communications role in being active in the local community.
How has this prepared you for a career? I was able to have control of a lot of my own projects and what I felt was best for the communications going forward. It allowed me to work better with deadlines and have better research skills when it comes to preparing for certain events, business calls and proposals to perspective clients and collaborators.
If you had to recommend this course to someone, what would you say? If you want to have a meaningful and concrete example of what you might face in the field of communications, this course is for you. It will prepare you with skills that you most likely will not learn from your courses and are based on the practicality of communicating to others, not the theoretical.