Placement Organization:
Keys N Krates
Position Title:
Music Management Intern
Number of Possible Placements Available:
1
Working Site's Location:
10 Alcorn avenue suite #304, Toronto
Job Description:

As a Music Management Intern, you will be providing administrative and creative support to Keys N Krates and their management team.
We are looking for an enthusiastic Music Management Intern to join our music collective and provide creative ideas to help achieve our goals. You will have administrative duties in researching and presenting new music for our label and playlists, as well as researching various strategies for socials, and capturing social content.
As a Music Management Intern, you will collaborate with the Keys N Krates team in many stages of creative and admin duties.
This internship will help you acquire artist management skills and provide you with learning
various music business strategies. Ultimately, you will gain broad experience in artist management and should be prepared to enter any fast-­‐paced work environment.
Responsibilities:

Collecting and shortlisting new music for the Brands weekly Playlists.
Researching and presenting new up and coming artists for collaborations and label.
Scheduling recording studio time and attending sessions capturing content for socials.
Managing the upload of demos and songs to various artists and music supervisors.
Other miscellaneous duties assigned by the management team and band.
Qualifications:

Strong eye for capturing moments in the studio for social media.
Photography background or strong personal social media presence.
Strong desire to learn alongside a professional drive.
Solid understanding of different music platforms (Soundcloud, YouTube, Spotify, Apple
Music etc.).
Excellent verbal and written communication skills.
Excellent knowledge of MS Office.
Personable and confident around artist and creative types.
Student Experience:

Dianne Victor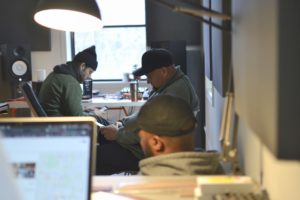 What kind of work did you do? Assisted the Keys N Krates team with online marketing and publicity campaigns through social media management, website development, copywriting, content creation and email campaigns.
What was your overall experience? I had a fantastic time with Keys N Krates. The team was amazing and very helpful in guiding me, both in my tasks and career wise. They gave me a lot of trust and valued my input in their work and the projects I took part in. It was definitely a great learning experience.
What skill sets did you develop throughout the process? Through the different projects I was given, I learned some new skills in copywriting, web design, and social media coordination and marketing.
How has this prepared you for a career? Aside from the new skills that I learned in the placement, it has taught me to be flexible in different work environments. I worked independently but also with a team, and it was important for me to be always willing to try and to learn new things.
If you had to recommend this course to someone, what would you say? It can help you figure out what you like or don't like in a job. Professor Andy and the TAs will also help and teach you things beyond what is usually taught in COMN courses. This is a great hands-on learning experience that enhances not only your resume but also helps prepare you for your future career.