Placement Organization:
Famiglia Baldassarre
Position Title:
Customer Outreach, Customer Connection Planning
Number of Possible Placements Available:
1
Working Site's Location:
122 Geary Ave, Toronto
Company Bio:


We are a pasta production facility / wholesale fresh pasta vendor/ eatery and retail store.
Responsibilities:

Client research and development.
Social media research and development.
Social media involvement as a temp personality.
Qualifications:

Extensive knowledge in the use of most popular social media platforms.
Ability to research and summarize research findings clearly; and great communication skills and a sense of humour.
Very personable and willing to engage clients on site and over email and media platforms.
Proficient in both their oral and written communication;
Punctual and professional in their approach to the work assigned;
Willing to experiment with new approaches to communication and media.
Additional Assets:

Proficient in speaking Italian.
Background in Videography.
Student Experience:

Michael Atzori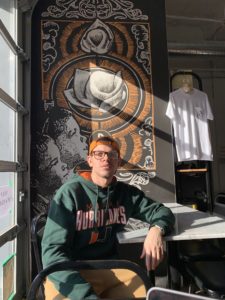 What kind of work did you do? The majority of my time at Famiglia Baldassarre consisted of me running their Instagram account once a week. I had my own program, called the "Mike the Intern Show" which would be posted to the organization's Instagram story. Here I would showcase the day-to-day occurrences of the business, and give viewers a behind-the-scenes look at the process behind the product they know and love. I would also use the feedback I received from viewers to enhance the show for future episodes.
What was your overall experience? Overall, I would say that I had a very enjoyable experience at my placement organization. I made great connections with the staff and my supervisor that I'm certain will assist me in the future. They quickly became more than coworkers, and I can consider them good friends.
I also learned a lot from this experience about what it takes to run a social media account from the perspective of a business. It is a job that requires consist attention to detail and the information I learned about the process at my placement was useful, and something I will keep with me for any job I pursue in the future.
What skill sets did you develop throughout the process? My time with my placement organization allowed me to develop a wide variety of skills. Of these, there were two skill sets I believe were exceptionally strengthened. The first of these were my people skills. I feel as if my ability to hold a conversation with someone was strengthened due to my constant need to do so at my placement. This is an important skill that is necessary regardless of an individuals career.
Another skill that was heavily developed during this process was my ability to be comfortable in front of a camera. I was certainly timid when talking to the camera at first as most people can be, however with time I broke out of my comfort zone and started to become more comfortable talking in front of a camera regardless of who is around me. This is a unique skill that I'm happy to have developed further thanks to my placement organization.
How has this prepared you for a career? This experience has helped to prepare me for a career because it has given me my first real taste of what the professional world is like. This experience is not unique to my placement organization, any organization you end up with as a result of this course will help you get started in the professional world and provide you with some unique experiences that you cannot find anywhere else.
If you had to recommend this course to someone, what would you say? If I had the opportunity to recommend this course to someone, I would tell them to take the course, and take it with an open mind. You never know where your placement experience could take you, or what it could lead you to experience. The connections you make and people you meet can only help you once you graduate. The skills you develop and knowledge you obtain through your placement experience will help you take that first step into the professional world while finishing up your degree.