Placement Organization:
Canadian Communication Foundation (CCF)
Position Title:
Social Media Assistant and Researcher
Responsibilities:

Social media research and development, and
Research to enhance and build the website.
Start up new twitter and Instagram.
Possibly working to organize interview data or find materials that enhance the site such as images.
Student Experience:

Demi Aravena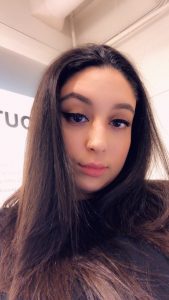 What kind of work did you do? At the CCF, we researched content for the site and created our own Twitter page in order to increase user traffic and to promote and collect possible funding. The placement involved a lot of research about Canadian broadcasting, organizational social media usage and the importance of generating an online presence.
What was your overall experience? My overall experience was excellent as I learned a lot about the organization itself while developing skills for online writing and researching. I enjoyed learning about the history of Canadian broadcasting and about the ways that social media can be used to promote user interaction and engagement.
What skill sets did you develop throughout the process?
The skills I learned throughout the placement were digital writing, researching and social media use. Some of the online tools we used for our work were Twitter, Google Scholar, Hootsuite, Wikipedia, and the CCF website itself.
How has this prepared you for a career?
Yes, this placement has prepared me for a career. I would like to be a social media assistant in the future so this placement has helped me develop a lot of the skills and techniques I will need to use for a job similar to this one.
If you had to recommend this course to someone, what would you say?
If I had to recommend this course I would say that it is a great opportunity to learn and develop new skills that will definitely be beneficial to a career in Communications and within similar fields. Both the placement and lecture portions of the course allowed me to better my writing and researching skills and I am grateful for all of the experience I gained throughout.