Welcome Back!
Welcome to the fall semester!
By now you should be registered in all your courses for fall.  If you still have questions or concerns please write to lapscomn@yorku.ca.  Someone at that email can send your email to the correct person.
We have created new spaces in some of our courses, especially in the first, second, and a few in the third year to make places for Communication Studies students and other York students.  Please check if you are still looking for courses.
We have two new courses available this year.  Prof. David Skinner is teaching an online course called Issues in the Political Economy of Media.  The course is an online course that examines the ways that information, communication, and media are linked to the production and maintenance of wealth and social power, and the ways in which symbolic resources are allocated within political economic systems and cultural institutions.  Anne MacLennan is teaching is another new course called Evaluating Media History.  The course will focus on media history in a variety of social and cultural contexts taking into account the differing approaches in the disciplines of communication studies and history. Students will have a chance to participate in a choice of traditional and creative projects that intersect with media history.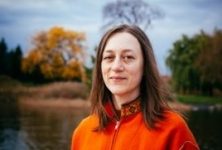 We also welcome to new full-time tenure-track professors to the Department of Communication Studies. Prof. Shirley Roburn graduated with her PhD in 2015 from Concordia University.  Her doctoral research focused on the film, Being Caribou as part of narratives about northern First Nations communities and environmental groups.  Her research focuses on the role of multimedia storytelling.  She will be examining communication and environmental themes this fall in Themes in Communication Studies.
Prof. Estee Fresco, who has been teaching in the department for a few years, has also joined the department as a tenure-track professor. She completed her dissertation, "Impassioned Objects and Seething Absences: The Olympics in Canada, National Identity and Consumer Culture" for her PhD at Western University in 2015. She researches in the areas of sports studies, Canadian identity, Indigenous-Settler Relations as well as communication and culture. She is on leave in the fall semester, but will be back in January and teaching two courses: Young People's Media in Canada and Global Youth Cultures.
At the end of June, Prof. Mary-Louise Craven and Prof. Wade Rowland retired. We thank them for all their contributions to the department and they will be missed.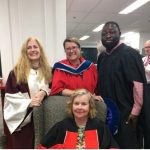 In June we were also pleased to see many of our students graduate at convocation! We look forward to the next convocation on October 11th.
Prof. Natalie Coulter, Prof. Ganaele Langlois, and Prof. Tokunbo Ojo are all on sabbatical this year, so they will have more time to focus on their research.  Prof. Ojo has just left for China to do research as part of his SSHRC Insight Development Grant, "Chinese New Media in Africa".
On August 31st a new book, Advertising, Consumer Culture and Canadian Society: A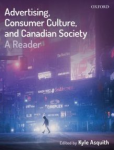 Reader edited by Kyle Asquith, came out with chapters by three of our professors.  The Emergence of the Tween Market and the Expansion of Children's Consumer Culture, by Natalie Coulter; The Hudson's Bay Company, Canadian History, and Settler Colonialism, by Estee Fresco; and Promoting Pity or Empathy? Poverty and Canadian Charitable Appeals, by Anne F. MacLennan are all part of this new collection.
In the last few months your professors have been working on research on campus and around the globe.  Prof. Natalie Coulter was at Université de Poitiers in Poitiers, France to present "Performing 'authentic' labour: The superfans, influencers and mirco-celebrities of children's media culture" with the Children and Teen Consumption Group. She also presented "Pop goes the Girl: The production ecology of an intellectual property" at the Society for Cinema and Media Studies in Toronto; "Mining the Data: The Case of the Superfan" at the McLuhan Centre for Culture and Technology at the University of Toronto; and "Learning to Fail (and be rejected)" at Association for Research in the Cultures of Young People in Saskatoon.  This year, she also co-edited with Melanie Kennedy of University of Leicester a Special Issue: Locating the Tween Girl in Girlhood Studies.  Prof. Coulter was awarded a Research Opportunity Grant Program from York University with Nombuso Dlamin, "From Community Participation to Mobilization: Black Youth Doing Politics."
Prof. Ganaele Langlois was on research trip to Lyon, France to the Musée des Textiles et des Arts Décoratifs to do research into the Jacquard Weaver as an early form of computing. She also published the chapter, "Social Media and the Care of the Self" in Digital Existence, edited by Amanda Lagerkvist. She will be presenting at Many McLuhans: A symposium in celebration of the UNESCO Memory of the World Designation for Marshall McLuhan's Archive & Library on September 21, 2018 in the Thomas Fisher Rare Book Library.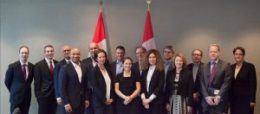 Prof. Jonathan Obar attended CIGI roundtable with Canada's Minister of Foreign Affairs a few months ago with Minister Chrystia Freeland (back row, second from the left).
Prof. Obar was also invited to be a panelist at Amnesty International Toronto Organization 2018 Regional Meeting in Toronto and at the OECD Workshop NYC: Growing and Shaping the Internet of Things Wellness and Care Ecosystem at Cornell Tech in New York City. Prof. Obar published with Anne Oeldorf-Hirsch "The Biggest Lie on the Internet: Ignoring the Privacy Policies and Terms of Service Policies of Social Networking Services" in Information, Communication & Society; also with Anne Oeldorf-Hirsch "The Clickwrap: A Political Economic Mechanism for Manufacturing Consent on Social Media" in Social Media + Society; with Ana Rita Morais "Mobile Internet." in The SAGE Encyclopedia of the Internet edited by Barney Warf; and with Brenda McPhail. "Preventing Big Data Discrimination in Canada: Addressing Design, Consent and Sovereignty Challenges" Centre for International Governance Innovation. His research was also featured on NPR.
Prof.  Anne MacLennan was awarded a SSHRC Insight Grant as Principal Investiga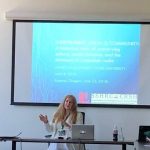 tor for "Programming, practices, production and policy: Canadian community radio" with collaborator Prof. Kate Moylan of the University of Leicester. Prof. Anne MacLennan also published "Private Broadcasting and the Path to Radio Broadcasting Policy in Canada," Media and Communication. She is editor-in-chief of the Journal of Radio & Audio Media, a Broadcast Education Association journal with Taylor & Francis. Last fall and the previous spring she worked with Prof. Michael Windover of Carleton University to present the shows: Making Space for Radio in Canada, 1922-1956 and Seeing, Selling, and Situating Radio in Canada at the Archives of Ontario; the Sound and Moving Image Library, York University; MacOdrum Library Discovery Centre, Carleton University; and Carleton University Art Gallery.  The next stop for the curated show will be Musée des ondes Emile Berliner in Montreal. This work is part of their SSHRC Insight Grant, Seeing, Selling, and Situating Radio in Canada, 1922-1956.  The book Seeing, Selling, and Situating Radio in Canada, 1922-1956 by Michael Windover and Anne MacLennan expands on the work of the show. Prof. MacLennan also presented "Radio, Home and Country: The Listener, the Medium and the Network 1922-1960" at the International Committee for the History of Technology in St. Etienne, France; "Rural Radio in Regina: Developing Free Radio during the 1930s" and "Under-resourced and Under-funded: Canadian Community/Campus Radio" at The Radio Conference: A Transnational Forum, at the Prato, Italy campus of Monash University; "Independent, local and community: a historical view of preserving culture, social inclusion, and the economy in Canadian radio" at the International Association of Media and Communication Research in Eugene, Oregon; "Regina Radio: A Prairie voice in the 1930s" at the Canadian Communications Association in Regina; and "Changing the Course of Radio and Audio Communities in Canada," PCA/ACA in Indianapolis.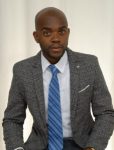 We are also happy to have a few of our senior PhD students teach in the department this year. Tyrone Hall will be teaching Digital Media and Culture in the fall semester.
Amanda Oye will teach Advanced Issues in Digital Media and Culture in the winter semester. James Forbes will be teaching Reflections on Consumer Culture: The Modern History and Analysis of Consumer Culture in the Western World in the fall/winter semester.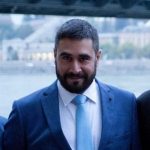 Prof. Susan Driver is our new Undergraduate Program Director. Prof. Anne MacLennan is the new Chair of the Department. Please watch for messages on the website, twitter, and Instagram.
Happy fall!
_________________________________________________________________________________________