Welcome back to the winter semester! Here are this month's events and opportunities in the Communication Studies Department.
Girls Make Movies Day
On December 30th, grade 6 girls from two Toronto schools were thrilled to visit us here in Communication Studies and use our cutting edge media lab to make their own movies.
Coming to York was the culmination of SSHRC-funded research project Embodying the Tween: Living Girlhood in Global and Digital Spaces, directed by Prof. Natalie Coulter and run by graduate students Grace Lao and Amina Ally.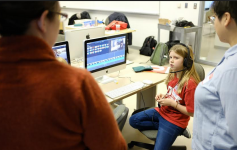 The project ran for much of fall semester and the girls participated in a weekly Girls Club at the two schools. Each week over pizza, under the direction of Dr. Coulter and her team, the girls explored the issues and tensions of being a girl in today's world. As part of this project the girls were given cameras to take home to take pictures and videos documenting their own lives. Using this footage, they each produced short 2-3 minute documentaries in our media lab where they were assisted by many of York's Communication and Culture graduate students. The documentaries produced by these talent girls eloquently expressed the realities of their lives. We are so proud of them and their work.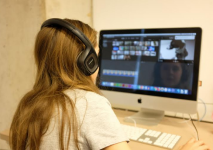 Thanks to all of the graduate students that came out to help. Kisha MacPherson, Tamar Faber, Shaughna Boara, and Jessica Bay. And thanks for all of the technical expertise by Ryerson documentary film student Subash Sundaralingam.
A huge thanks to the girls who participated in this project and brought their excitement and energy to Girls Club.
Apply to Graduate
As we enter the Winter semester, we would like to invite students to keep up with deadlines regarding graduation. If you are in your final semester, you have to apply to graduate. Once you apply, York will evaluate your eligibility to graduate.
If you would like to graduate in the June 2019 convocation please apply by the deadline which is February 28th, 2019
If you are unaware of your eligibility to graduate you can check your status here. Otherwise, please make an appointment with an academic advisor through LAPS or through the Communication Studies Department. Joelle can be contacted for appointments by email, joelle@yorku.ca
Please look at the chart below to determine when you need to apply to graduate.

Decolonial Looking
A public lecture was held on January 22nd, 2019 in the Victor Phillip Dahdaleh Building in Room 0015 by the Department of Communication studies featuring key-note speaker Cyrus Sundar Singh focusing on Decolonial Looking. Cyrus Sundar Singh was invited by Prof. Shirley Roburn to speak to her Screen Cultures class.
The multimedia presentation titled "Floating To The Lure Of The Promised Land: A Condition Of Displacement" discussed the protracted civil war in Sri Lanka. The war was ignited by 7 days of deadly riots and ethnic cleansing known as Black July in 1983. The devastating civil war polarized its citizens along ethnic lines—a Sinhalese Buddhist majority, and a Tamil Hindu minority. The 26-year civil war, which"officially" ended in 2009, claimed over 100,000 lives, and displaced more than a million Tamils. Three decades later, a majority of these displaced Tamils are still waiting to return home. Through the creative use of multi-media together with contemporary first-person testimonies from the former—but still occupied—war-affected parts northern and eastern Sri Lanka Floating to the Lure of the Promised Land: A Condition of Displacement explored commemoration and displacement as weapons in the continuing subjugation of the Tamils in a post-conflict era.The multi-media presentation moved through: an internally displaced persons (IDP) camp in Jaffna, Sri Lanka; onboard a resurfaced refuge lifeboat, which carried Tamil Sri Lankan refugees to Canada in 1986; a 150-day vigil by the Mothers of the Disappeared in Kilinochoci, Sri Lanka; onboard trains, planes and motor-scooters—all in 20 minutes.
Cyrus is a Gemini Award-winning filmmaker, a recipient of the Alan Sheppard Equity and Diversity and Inclusion Award from Ryerson University, and a recent graduate with a Master of Fine Arts (w/Distinction) in Documentary Media. He is also a musician, poet, storyteller, and change-maker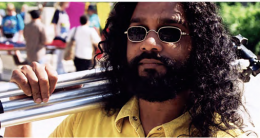 pursuing a doctorate in Communications and Culture program. Positioning himself as an AcademiCreActivist scholar, Cyrus continues to expand and find cracks in conventional boundaries presenting his research and research-creation projects at numerous local, national and int
Panel on Climate Change and Communication
Thursday January 31st, 2019 in the Victor Phillip Dahdaleh building, room 3060 at 11:30 a.m.
This panel will be featuring speakers Tyrone Hall and Carmen Victor, PhD candidates in the Joint Graduate Program in Communication and Culture at York/Ryerson Universities
Carmen Victor is a PhD candidate in the Joint Graduate Program in Communication and Culture at York/Ryerson Universities. Her writing on contested landscapes, installation art,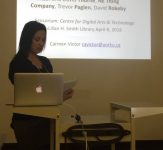 cinemas of the circumpolar North, and time-based and experimental film & media has appeared in Prefix Photo, Public Journal, Ciel Variable, Seismopolite: Journal of Art and Politics, Culture Machine, Dialogue: Canadian Philosophical Review,The Journal of Science Fiction Film and Television, and TOPIA: Canadian Journal of Cultural Studies, and as well in edited volumes published by Pleasure Dome (Toronto) and Northern Gallery for Contemporary Art (Sunderland, UK). She teaches in the Faculty of Liberal Arts & Sciences and School of Interdisciplinary Studies at OCAD University. http://www.carmenvictor.com/
She will not be discussing whether catastrophic climate disaster is going to occur. But rather, when will it occur. The recent United Nations, Intergovernmental Panel on Climate Change report affirms that we only have 12 years to implement drastic changes in order to mitigate extreme heat, drought, floods and poverty caused by an increase in the Earth's warming, beyond 1.5 degrees celsius. In the face of political stagnation and as students and scholars in the Social Sciences and Humanities, we often wonder how to address climate change. Carmen Victor discusses how the Imaginary has been a common horizon that grapples with climate catastrophe as well as developing upon the idea of a 'visual culture of the Anthropocene' in order to unpack subjectivities of the (so-called) Anthropocene.
Tyrone Hall is a Vanier Scholar and PhD Candidate focused on environmental communication. His ambitious global dissertation project aims to optimize climate change communication through field work in 17 traditional and indigenous communities from across Fiji, South India and Belize.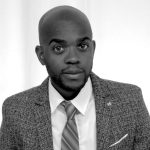 He has nearly a decade of experience managing environmental communications in the Caribbean, including three years as the lead communications specialist for the Caribbean Community Climate Change Centre (CCCCC). He managed the communications portfolio for 19 climate change projects across a dozen Caribbean islands, Belize, Guyana and Suriname. Hall provides strategic communication services, research-based communication support and partnership development. He is adept at distilling complex scientific information for varied audiences at both regional and international levels, including policy briefs, knowledge briefs, impactful videos and multi-modal campaigns. He honed these skills while working with diverse international project teams, including his role as the lead research and outreach associate for the flagship USAID Global Broadband and Innovations Programme. He also routinely reviews climate change communication and ICT for agriculture and youth employability initiatives in India, Sub-Saharan Africa, the Caribbean and Pacific.
He will be discussing how contemporary society is confounded by the unprecedented nature of current and projected climate change and variability. While there is broad technical and scientific consensus for urgent changes in global economic and energy systems, policy-makers have struggled for over a generation to effectively mobilize the scale of agency and action needed to support these actions. The belated adoption of a common "Rule Book" on the eve of the implementation of the Paris Agreement is the latest indication of the action gap. What does a socio-cultural perspective offer for improving the communicability of climate action during the enactment of systemic climate actions? How should the socio-cultural be leveraged and what are its limits?
This panel will be held on Thursday January 31st, 2019 in the Victor Phillip Dahdaleh building, room 3060 at 11:30 a.m.
The Dean's Award for Research Excellence - Research Employment Opportunites
The Dean's Award for Research Excellence (DARE) provides opportunities for Liberal Arts & Professional Studies (LA&PS) undergraduate students to engage in research projects supervised by faculty members over the Summer Term.
Prof. Anne MacLennan,  Prof. Jonathan Obar and Prof. Mark Hayward are recruiting research assistants for their projects.
Prof. MacLennan will be focusing on 'Community/Campus/Indigenous Radio', a full description of the research position can be found here.
Prof. Obar will be focusing on 'Open Communication for an Open Internet? Understanding ISP Transparency About Network Neutrality', a full description of the research position can be found here.
Prof. Hayward will be focusing on 'Early Digital Art in Canada: A Retrospective', a full description of the research position can be found here.
Prof. Hanke will be focusing on 'A Smarter, Smart Neighborhood? Alphabet's Sidewalk Labs and Toronto's Quayside', a full description of the research position can be found here.
The primary goal of the Award is to support the development of students' research skills by providing them with hands-on experience on a research project being undertaken by a faculty supervisor.
See the list of available research projects
Through the DARE experience, undergraduate students will:
receive one-on-one mentoring from a faculty member;
participate meaningfully in the process of scholarly inquiry
develop research skills and experience to support them as they move forward in their careers;
investigate and learn about a research area of interest; and
gain valuable experience in the communication of research results, such as preparing and delivering poster presentations.
Award Value
$5,000 per student (paid as a monthly stipend over the summer months).
Eligibility
The awards are open to full-time undergraduate students enrolled in programs within the Faculty of LA&PS, including those graduating in June 2019, who:
will normally have a minimum GPA of 7.0; and
have completed at least 48 credits by the time they take up the award.
Deadline: February 8, 2019 by 4pm
Interested students must submit via an online Expression of Interest form their resume and cover letter to the professor(s) whose project(s) they would like to work on by February 8, 2019 (by 4pm).
Impression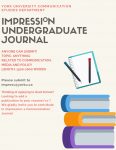 The Department of Communication studies, in partnership with the CSSA is doing a call for submissions. Papers on Communication, policy and media are being accepted for our undergraduate student run journal. Papers with original content and visuals are encouraged. The papers should be between 1500-6000 words. This is a great way for undergraduate students to get a publication, which looks impressive on a c.v if you're thinking of applying to grad schools. Please email your submissions to impress@yorku.ca
Please submit now. There will be plenty of time for the editors to help the authors edit their work.
Founders College Workshops
The Career Centre: A Guide to Summer and Permanent Employment
Join this workshop to learn strategies and tips to prepare you for the workforce. The Career Centre will be at Founders to teach you how to: job search and network, as well as resume tips, interview skills and more. Become informed about the current labour market and also learn about the career opportunities at York University available through the YUTA program (York University Temporary Agency).
February 6, 2019
12:30-2:00pm
305 Founders
RSVP: https://enteringjobmarket.eventbrite.ca
LA&PS Study Abroad Information Session
Are you looking to internationalize your degree? LA&PS International will be stopping by Founders to inform you about study abroad opportunities offered by the Faculty of Liberal Arts and Professional Studies.
February 25, 2019
11:30-1:00pm
305 Founders
RSVP: https://gostudyabroad.eventbrite.ca
Career Centre How to: Nail your Job Interview
The Career Centre is coming to Founders to teach you how to ace your next job interview! This workshop will teach you how to stand out to employers, what to do and what not to do in an interview and how to properly answer interview questions.
March 6, 2019
12:30-2:00pm
303 Founders
RSVP: https://jobinterviewprep.eventbrite.ca
Mitacs Globalink Research Internships arriving in the Department
Prof. MacLennan will be providing two international students with the opportunity to contribute to her exciting community radio project. Selected through the Mitacs Globalink Research Internship Program, Wanqiao Chen and Jie Wang will be joining the project starting in June 2019.
The Mitacs Globalink Research Internship is an international program, which allows applications to participate in a 12-week research internship under the supervision of a Canadian university faculty member in a variety of different disciplines.
Prof. Anne MacLennan will be hosting two students, who will be able to work on her SSHRC-funded research project with Prof. Katie Moylan of Leicester University in the UK.  The research, Programming, Practices, Production & Policy: Canadian Community Radio will go beyond chronicling the challenges of Canadian community/campus radio stations to work in stages to identify the successes or best practices and challenges to provide a conduit of information on initiatives and innovations to help sustain and advance the growth of community/campus radio stations.  Since community/campus radio stations are not part of a national public or commercial network, they cannot draw on the network's resources they often work independently and there is a siloization or isolation effect in place.  The second objective will be to identify national commonalities of experience, practices, successes and challenges in order to analyse commonalties and differences to sustain and foster growth of Canadian community/campus radio by sharing information and practices that can assist the stations. Finally, this project will identify and analyse how station practices (labour and scheduling) and policy frameworks structure and inform production practices and programme content with reference to diversity representation, local concerns, linguistic matters and other factors that largely serve to separate what is largely a common experience.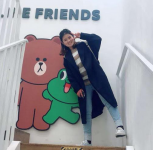 Jie Wang is  a sophmore in the Communication Department at Fudan University.  She is an editor of the Ying Qing of Journalism, Fudan  University.  She is also senior manager of the Fudan's souvenir shop of Shanghai.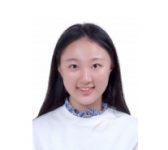 Wanqiao Chen is a Film and Drama Studies student at the University of Communication, China. She published, "The Impulse of Music Variety Show on Music Culture Industry," in Music Communication, which is administered by the State Administration of Radio and Television, People's Republic of China. She is  also doing a research about the constant existing condition of a typical QUYI (Chinese folk arts form, a type related to the Chinese opera), Nanjing Baiju.
Mitacs Globalink Research Internships for Canadian students - apply now if you want to travel with $6,000 this summer
The Mitacs Globalink Research Award provides $6,000 for senior undergraduate and graduate students, and postdoctoral fellows in Canada to conduct 12–24-week research projects at universities overseas.
The following opportunities support travel and research from Canada to universities in:
Australia
Brazil
China
EU member countries
Israel
India
Japan
Korea
Mexico
Norway
Tunisia
United Kingdom
United States
*This information above is subject to change. Applicants are responsible for confirming application details, as required. Funding is limited, and applications are processed in the order in which they are received.
Jumpstart your application:
Talk to your faculty supervisor or university international office to identify a professor in one of the eligible destinations who works in your research area
Reach out to the professor(s) about your research and hosting your potential project
Get signatures from your home and host professors and university Office of Research Services (or equivalent), then submit your complete application by the suggested deadline (Mitacs recommends allowing 1–2 weeks to secure university signatures).
Contact international@mitacs.ca for more information.
Sign up to receive Globalink Research Award updates on partner countries and other changes to the program.
Applications are accepted any time. For participants wanting to travel by a certain date, Mitacs recommends the following timelines:
---
| | |
| --- | --- |
| Submit your application in: | For travel starting as early as: |
| January | The following summer |
| May | The following fall |
| September | The following winter |
Select awards offered in partnership with: Brazil's Coordenação de Aperfeiçoamento de Pessoal de Nível Superior (Capes), the China Scholarship Council, the European Union's Marie Skłodowska-Curie Actions, France's Inria, India's Ministry of Human Resource Development, the National Research Foundation of Korea,Tunisia's Ministry of Higher Education and Scientific Research, and Mission Universitaire de Tunisie en Amerique du Nord.
https://www.mitacs.ca/en/programs/globalink/globalink-research-award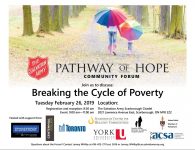 Prof. Anne MacLennan will be participating in a panel as Pathway of Hope, Breaking the Cycle of Poverty on February 26th.
Congratulations to Prof. Mark Hayward for his Seed Grant for Collaborative Research Initiatives fund.Grant awarded by Liberal Arts & Professional Studies entitled, "Media, Data and Migration".
Prof. Natalie Coulter will be spending part of her sabbatical in Sweden from February 27 to late April.