What's coming up
The department is thrilled to feature several new courses.
COMN 1401, 6 Credits, FW 19/20: Fake News, Fact-Finding & the Future of Journalism 

Taught by Professor Jonathan Obar

What is fake news? How does it spread? How do we distinguish fact from fake? Are social media to blame?
COMN 1410, 6 Credits, FW 19/20: Sport Media

Taught by Professor Estee Fresco

This course explores the relationship between sport cultures and media practices. Key topics include media representations of athletes; fandom; the business of sport media; sport and social justice; and the development of sport media over time. Students taking this course will study a wide range of sports (e.g. football, soccer, dance and gymnastics) and media forms (e.g. newspaper, television, radio and twitter).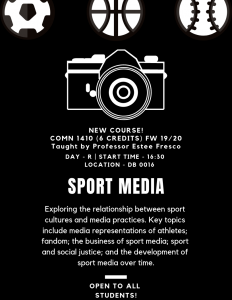 COMN 3781, 3 Credits, Fall '19: Media and Environment

Taught by Professor Shirley Roburn

This course examines various currents of thought within communication studies that have attempted to take 'the environment' into account. It explores the field of environmental communication, as well as how broader frames such as eco-feminism, environmental justice, and indigenous thought have influenced public sphere debates concerning the stewardship of land, water, air, and living creatures.
---
We are excited to announce several other new courses offered in the Fall!
COMN 4130 , Unions, Organizing, and the Media, Professor TBA.
COMN 4222, News Next: Creating news in a platform society, will be taught by a News Producer from the CBC. More information coming soon.
COMN/INDG 4750, Approaching Indigenous Media, taught by professor Shirley Roburn.
COMN/INDG 4755, Indigenous Media in the Canadian Context, , taught by professor Shirley Roburn.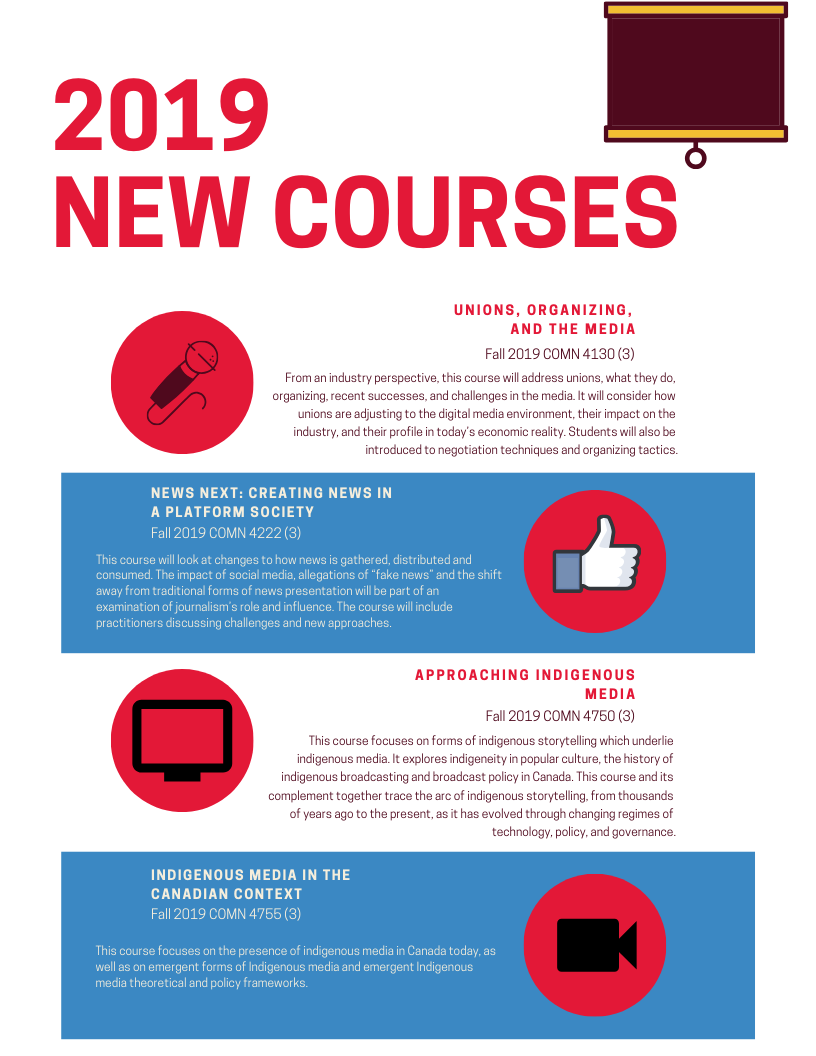 ---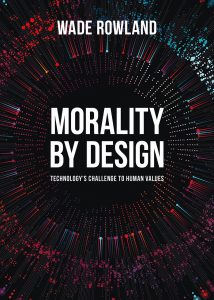 Congratulations to Professor Emeritus Wade Rowland on his new publication Morality by Design. The eleven short, linked essays represent a culmination of two decades of research and writing on the topic of moral realism.
The readers are first introduced to the basic ideas of leading moral thinkers: from Plato to Leibniz to Putnam. He then explores the subject through today's political, economic, and environmental conundrums.
"The collection presents a strong argument against postmodern moral relativism and the idea that only science can claim a body of reliable fact; challenges currently fashionable notions of the perfectibility of human individuals—and even the human species—through technology; and argues for the validity of common sense.
In guiding the reader through Enlightenment-era rationalist thought as it pertained to human nature and the foundations of morality, Rowland provides a coherent, intellectually sound, and intuitively appealing alternative to the nihilistic views popularized by contemporary radical relativism. Morality by Design ultimately seeks to convince readers that there is such a thing as moral fact, and that they do indeed have what it takes to make robust and durable moral judgments."
---
The June 2019 York Convocation Ceremony Schedule is out! Communication Studies will be part of Ceremony #5 on Monday, June 17, 2019 at 3:30pm.
All ceremonies will take place at the Aviva Centre, 1 Shoreham Drive, York University - Keele campus.
Please note that convocation ceremonies will be video recorded and photographed. You can watch also live webcasts of the convocation ceremonies.
---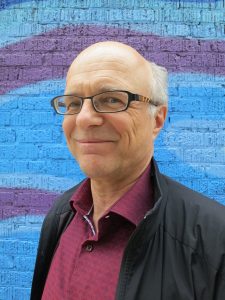 Professor Bob Hanke's project, A Smarter, Smart City? Alphabet's Sidewalk Labs and Toronto's Quayside, aims to study the initial planning process and the media discourse surrounding this project. "Quayside" is a site of contestation over the meaning of a "smarter" Toronto in the age of surveillance capitalism. In July, he will be giving a paper titled "A Smarter Toronto: Some Reassembly Required" at the IAMCR in Madrid.
---
What's happened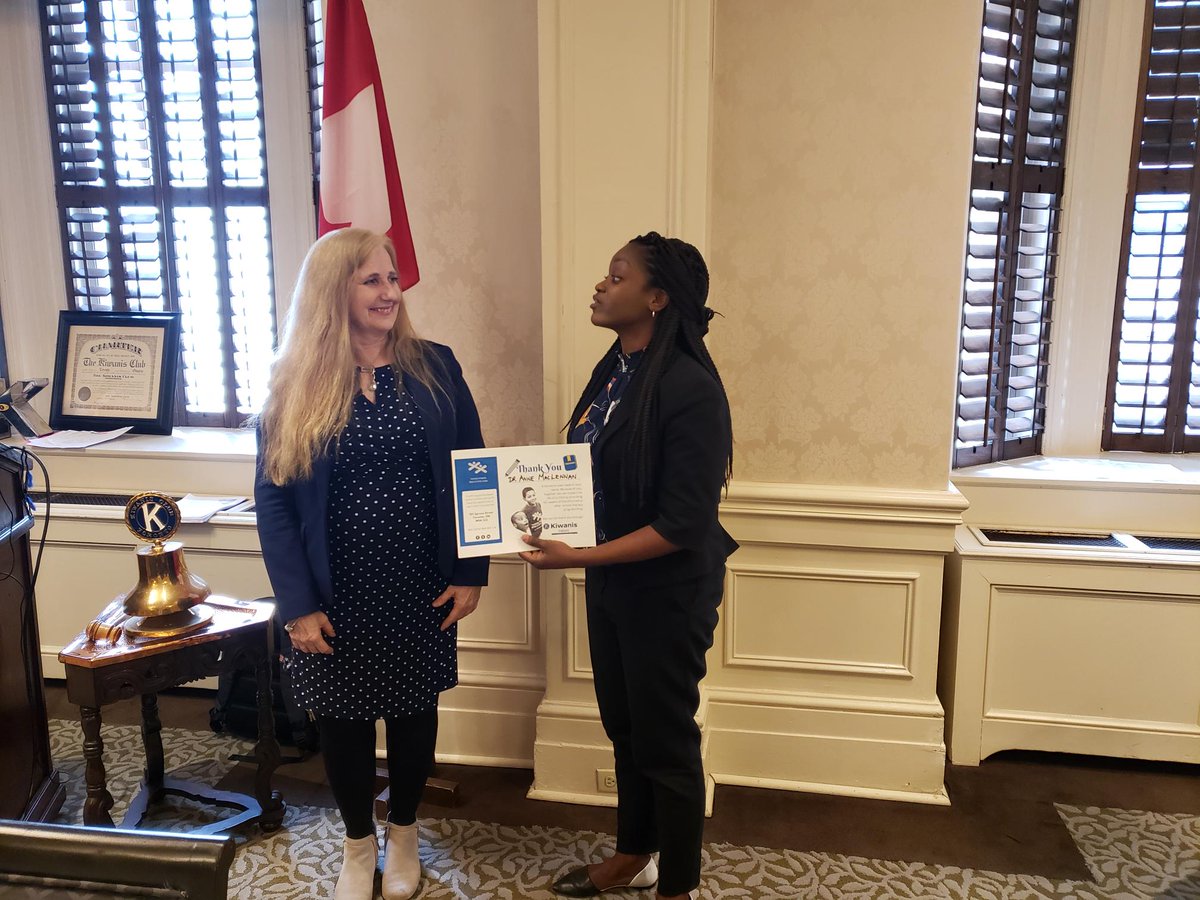 On April 24th, Anne MacLennan presented The Child at the Centre of Our Notions of Poverty at the Toronto Branch Kiwanis Club.
Professor MacLennan's research investigates how dominant societal views of poverty are directly correlated with mediatized portrayals of the poor - and how victims are blamed and stigmatized.
"While high unemployment rates, cuts to social, health and education, environmental change have been documented by the news media, the notions and images of the poor and "worthy or deserving" poor remain and are reinforced by representations in popular culture. Our notions of deserving poor dominant narratives of popular culture, in particular, are reinforced constantly in the media through film, television, music, and advertising. While the news chronicles policy, government, statistics and the shifting poverty line, popular culture repeats the refrain is that the poor must solve their own problems relying on the myth of rags of riches rather than seek systemic change."
---
Dr. Natalie Coulter recently presented in a two-day workshop with Linköping University. Titled girlhoods, the workshop featured ten presentation, brainstorming and discussions on girls, competition and games.
Professor Coulter also guest lectured at Tallinn University. Her talk was called: My Moshi Monster is 'Desolate: Games and Affect in Digital Capitalism.
"The purpose of this paper is to extend this theorization of the affective spaces of young tween girls in the current moment of neoliberal capitalism. The presence of misery and desolation in digital spaces such as Moshi Monsters allow for an opportunity to problematize the mediatized construction of sensory experiences for tween girls. In the game emotional sensations are rooted in the effects of material conditions that can easily be changed with the simple actions of buying food and buying items to decorate my monster's room.
Ultimately this paper will use Moshi Monsters, as form of tween media, as way to question the mediatized constructions of a) affective experiences, b) individual subjectivity and c) Lauren Berlant's (2008) notion of the "unfinished business of sentimentality" in the spectacle of the digital spaces of Moshi Monster."
---
Professor Mark Hayward will be a featured guest speaker at the
FIELDWORK & PAPERWORK
FRAGMENTED HISTORIES OF CANADIAN COMMUNICATION STUDIES Workshop on April 29, 2019 at Carlton University.
On Sunday, March 17, Professor Hayward also presented Visualizing Networks at the Society for Cinema and Media Studies 2019 Conference in Seattle. SCMS "is the leading scholarly organization in the United States dedicated to promoting a broad understanding of film, television, and related media through research and teaching grounded in the contemporary humanities tradition."

He also recently presented at the EDGY MEDIA Symposium: On Borders, Migrations, Media Studies and Media Arts. A cross-border two-day symposium in Windsor/Detroit on March 1-2.This symposium "brings together scholars, curators, and artists to present studies of the ways in which communications scholarship, media studies, and media arts have been shaped by borders and migration." Professor Hayward's presentation was titled: Media, Immigration and Bureaucratic Intellectuals in Cold War Canada.
---
Anne MacLennan was at the Broadcast Education Association/National Association of Broadcasters in Las Vegas, Nevada in her capacity as the editor-in-chief of the Journal of Radio & Audio Media. She hosted a session on getting your work published in the Journal of Radio & Audio Media and other BEA journals. She participated in the panel to honour Asta Zelenkauskaite, Drexel University for her article, "Value of User-generated Content: Perceptions and Practices Regarding Social and Mobile Media in Two Italian Radio Stations."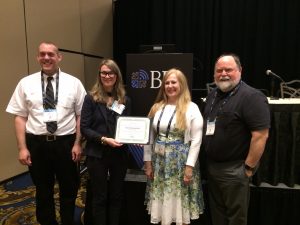 Asta Zelenkauskaite (Ph.D., Indiana University, 2012) is an assistant professor in the Department of Communication at Drexel University. This was a juried choice of best article for the year. 
---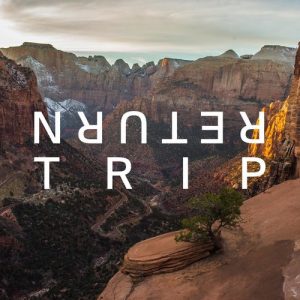 Communication Studies Alumna Erin Pehlivan is launching Return Trip. An independent magazine that "aims to showcase the personal aspects of travel and identity — how it can transform us personally, and how it can encourage new ways of understanding."
"Return Trip is a magazine that explores how travel makes us feel. It's a publication by and for people who believe travel is an undeniable part of their identity, whether it's through living abroad, diaspora, migration, or their own travel experiences."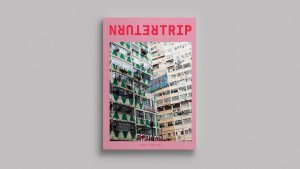 Their first issue includes art, photography, stories, journals, poetry, essays and reflections from 19 contributors living in Canada and around the world, including Singapore and Germany.
"In the first issue of Return Trip, we uncover what it means to "return" — whether to our homes, our roots, or the road. From featured discussions on how our lives have been shaped by travel, to reflections on immigrant identities, we look at how global experiences play a role in helping us become who we are. Our first issue includes art, photography, stories, journals, poetry and essays from 19 contributors living in Canada and around the world."
On April 25, 2019, the magazine launched their first issue! The celebration took place at Antikka Cafe & Vinyl Shop.
Our Social Science & Communication Studies Awards Ceremony took place on Tuesday, March 19th.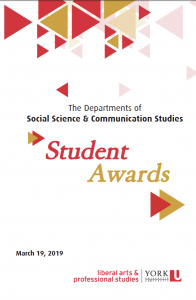 The awards handed out were: Penny Jolliffe Scholarship, Dalton Kehoe Prize, Eric Koch Award, Jerry Durlak Prize, Reva Orlicky Memorial & Founding Friends Award, Fokus Media Award #1 (COMN 3700 & 3701), Fokus Media Award #2, York International Exchange Award and, Arthur Siegel Memorial AwardCongratulations to the winners! 
---
Summer Communication classes have been released, the list of courses that are available are above. Find out when you can enrol.
---
The Mitacs Globalink Research Award provides $6,000 for senior undergraduate and graduate students, and postdoctoral fellows in Canada to conduct 12–24-week research projects at universities overseas.
The following opportunities support travel and research from Canada to universities in:
Applications are accepted anytime, but those interested are encouraged to apply at least 16 weeks prior to their planned departure.
For other information and questions, please contact international@mitacs.ca.
---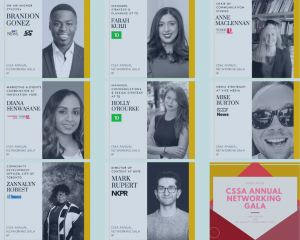 The CSSA Annual Gala is a networking event that allows for the socializing of industry professionals, faculty members, and students.
On April 4th, industry professionals from some of the biggest businesses in Canada were in attendance and participants had the opportunity to gain knowledge and valuable insights about their field.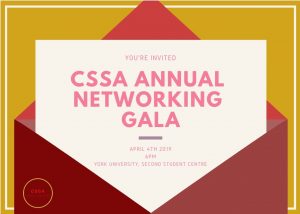 ---
Congratulations to our top 3 winners for our dream placement contest! 
They won $50 of merchandise at the bookstore.
---
Professor, scholar and author, Elizabeth Wissinger presented Glamour Labour in the Post-Digital Age for the Ioan Davies Memorial Lecture.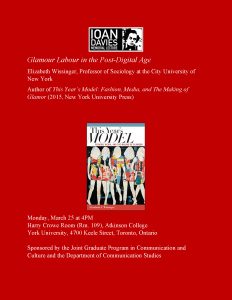 ---
On March 30, 2019, York University held its Spring Open House. Future students learned about the Faculty, Department and programs.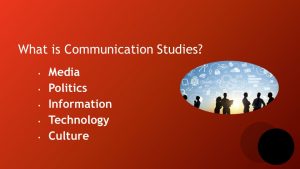 ---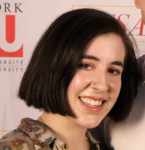 Work Study student Yesim Halac, will be leaving the Department and embarking on a new challenge. We thank her for her time and dedication. Best wishes to her!
---
For the second year, the Show a Little Heart  (https://www.showalittleheart.ca/) video competition has been organized by Heart to Home Meals.The video competition is open to college and university students and is now underway!It offers an opportunity for students to show how a senior has had an impact on their life. Students are being asked to produce videos (between 3 and 5 minutes) that capture personal stories. The videos will be judged by a panel of experts.Three prize winners will be awarded $1,000, $500 and $300.
---
More News Coming!