Trevor Grant, Unit Production Manager with the CBC, recently visited our COMN 4222A course. Grant manages the budgets for TV Current Affairs and News Programs, including shows such as Marketplace, Fifth Estate, and The National.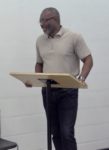 Working at the CBC for over 30 years, Trevor's career highlights include the planning and production for special events such as D-Day, Vimy Ridge anniversary coverage, as well as Canada Day festivities.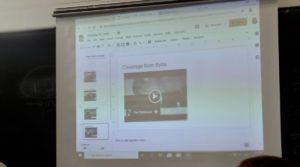 Grant explained to the students that special events require a break down of costs and that the budget needs to cover people, cameras, edit suites, as well as a mobile unit (a large truck used for remote broadcast television production).
His role also involves detailed pre-planning. Such as securing accommodations, hiring local drivers and handlers, making sure satellite feeds are working and, in some cases, assuring there's a broadcast location.
The Q & A portion of the lecture had students inquiring about what is involved in breaking news and sending crews to critical zones (training, travel, gear, sets, etc).
Grant concluded by telling the students he feels fortunate to have traveled all over the world on many large productions and considers it an honour to assist in bringing interesting programs to Canadians.