Be bold. Be diverse.
Those were the words CBC senior producer Mandy Luk ended her presentation with when she visited Marlene Murphy's course COMN 4222 News Next: Creating News in a Platform Society.
The experienced journalist spoke to the class in a very engaging presentation on diversity. Working for prime-time newscast The National, Luk explained that as generations change, to address the audience, they must enhance diversity.
Some of the challenges Mandy faces in her job include deadline pressure, lack of connections, bias in archival data, reuse of guests/panelists, and broadcast vs digital audience. To combat these hurdles, Luk recommended focusing on real people, using community outreach, and to capitalize on other diverse sources.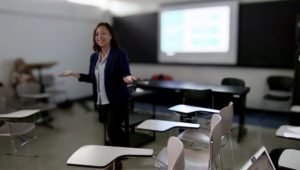 Luk stressed to the students that a conscious effort must be made if representation and engagement are to occur and that she always aims for at least two forms of diversity in every story she does.
She concluded by mentioning the diversity index and showing how things are changing for the better.