BEA have exciting scholarships, competitions, conventions and events - and Communication Studies at York is a member!
*Please note each student MUST join BEA membership first before they can submit their application. Please obtain the discount code from the department.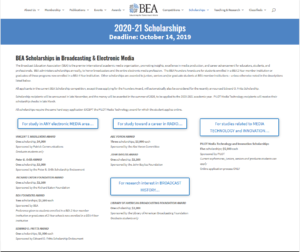 The deadline for the 2020/2021 BEA Scholarships is October 14th, 2019 and all of our students can apply using the following directions:
STEP 1: Select Member Login at the top right of WWW.BEAWEB.ORG then click on New Visitor Registration
STEP 2: Enter your Primary Email Address then press Go
STEP 3: Enter your Personal Information then press Create Account
STEP 4: Select Online Store located on the left side of your screen
STEP 5: Select Undergrad Student Member and then press Add to Cart
STEP 6: Enter (contact the department for the Discount Code), press Apply Discount, Check out and Purchase Now.