Congratulations to Professor Bob Hanke, who recieved an honorary mention for the UCF/IAMCR Urban Communication Grant 2018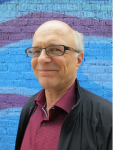 Bob Hanke's project, A Smarter, Smart City? Alphabet's Sidewalk Labs and Toronto's Quayside, begins with an October 2017 decision by Waterfront Toronto to partner with Sidewalk Labs, a sibling company to Google, in co-producing "Quayside," a 12-acre site on Toronto's eastern waterfront. The aim is make Toronto a global hub in urban innovation that takes the lead on the "smart city." Speaking of the project, Hanke says, "my goal is to explore how this iteration of the "smart city" will produce social space and contribute to an emerging platform urbanism. My research will investigate the planning process that will lead to a master plan. Approaching the assemblage of people, process, technology, and place will yield insights into data-driven urbanism, embedding of software in infrastructure, sociality, public space, and neoliberal political economy. The research project will contribute to urban communication and geomedia studies and a critical perspective on the social imaginary of a smarter, 'smart city.'"
Bob Hanke teaches media studies in the Departments of Communication Studies and Humanities at York University. Among other courses, he teaches Mediaspace and the Modern City. In 2002, he co-authored a case study of "Signs of a New Park" that examined the planning process and cultural struggle over the meaning of a "park" in the context of new urbanism and a post-modern approach to urban space and nature. He has published in various journals and books, and co-edited "Out of the Ruins: The University to Come" in TOPIA: Canadian Journal of Cultural Studies. His recent research interests include film-philosophy and the co-existential film trilogy of Swedish filmmaker Roy Andersson and U.S. political communication and culture with a focus on Trump's populist politics and micro-fascism.